University Data Store — UDS
Accessing Columbia University Data
Data from systems across the University are collected into a secure and managed University Data Store (UDS), from where it is available to our clients for reporting. Using this data, the EBIS team has created a number of pre-developed, standardized, or "canned," reports, which satisfy the needs of the majority of our users.
We can also provide access to this data through our self-service reporting tool, WEBI, to empower advanced database users to customize their own reports to meet specific business needs.
On this page:
University Data Store (UDS)
The UDS is comprised of a number of data stores that include Student, Employee and Financial data.
Please be aware that data within the UDS is governed by Columbia University's policies regarding data security and usage:
Below is a diagram of the UDS, as well as a description of each available data store. Click the diagram to view a larger version.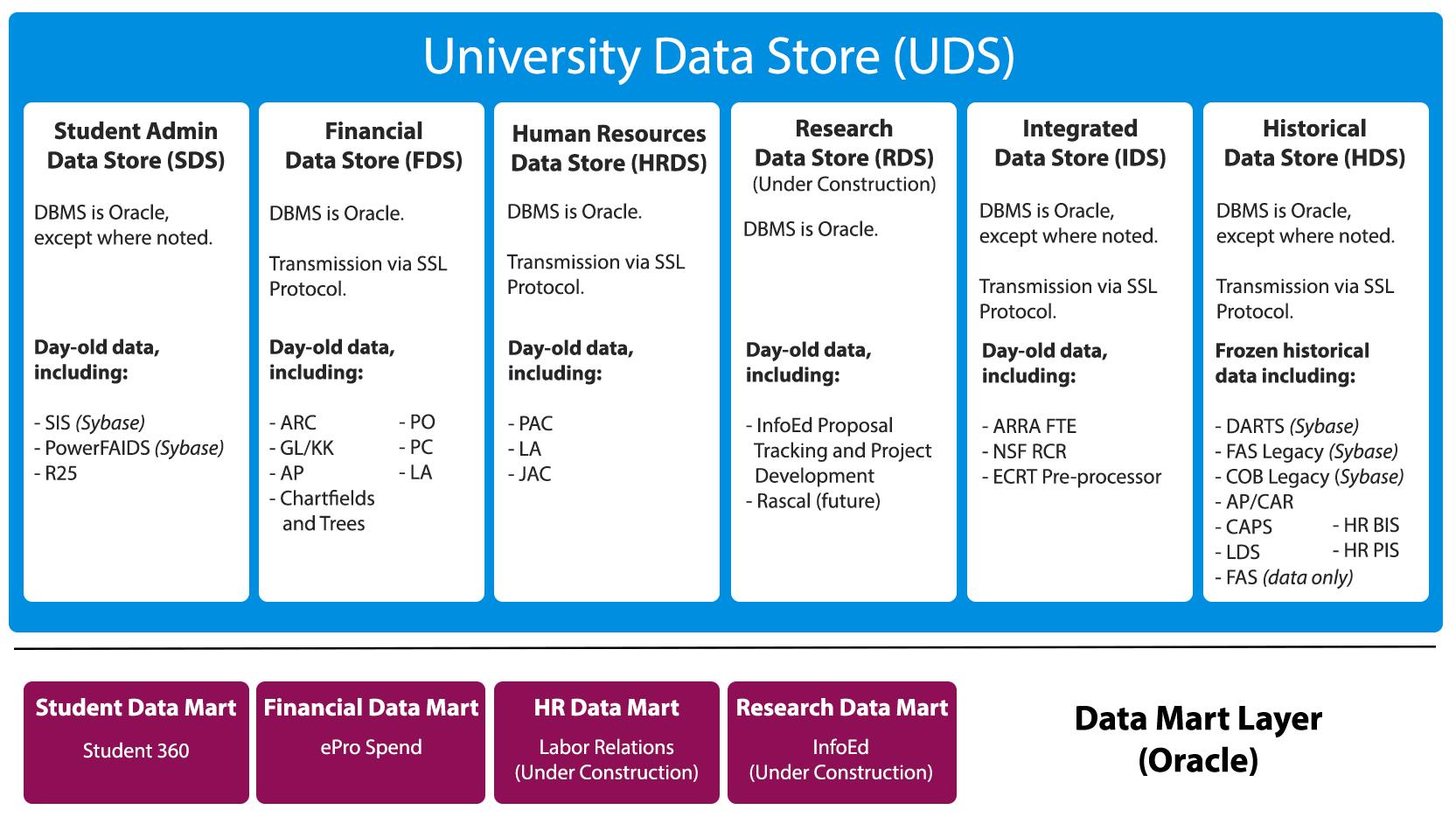 Individual Data Stores
The Student Data Store includes data from Columbia University's Student Information System (SIS) as well as the PowerFAIDS financial aid system.
The Financial Data Store includes data from the University's ARC financial system, including GL/KK, AP, PO, PC, LA, Chartfields and Trees.
The Research Data Store includes data from the University's Research systems, including InfoEd Proposal Tracking and Project Development, as well as Rascal.
The Integrated Data Store includes data combined from multiple systems, including ARRA FTE, NSF RCR, and the ECRT Interface. This data store is used as an interface for certain application systems.
The Historical Data Store provides access to historical data (older than 3 years) from the data stores described above.
Data Cookbook
The EBIS Data Cookbook provides a repository for data definitions and data governance to ensure the accuracy of our reports, and to increase the agility with which we can develop new reports. Through the use of the Data Dictionary, anyone creating reports from the UDS can utilize a common set of data definitions and governance tools. If you have questions about our Data Cookbook, or would like access, please email [email protected].