Exchange
Also known as Outlook, OWA, Outlook Web Access and Outlook Web App.
Exchange is a fee-based email system used mainly by Columbia's central administrative staff, powered by Microsoft Outlook.
Manage your email with Outlook or Web Outlook
Calendar for schedule and meeting management (can be made viewable to other users)
Task list (assignable to other users)
Contacts list
Shared data
Easy sign-on with UNI and UNI password
Storage space for email starts at 2 GB. Additional space is available on the Exchange server at a cost.
A full access user of an Exchange (Outlook) Shared Mailbox must change permissions for others to access mailbox folders, and non-full access users have to add the Shared Mailbox to their own Exchange (Outlook) account in order to see it upon login.
User definitions
Full Access: The highest level of administrative rights for an Exchange Shared Mailbox is full access, and an owner has fewer permissions.
Owner - Reviewer: Allows account access, but not administrative rights
Contributer: The lowest-level permission in Exchange. If a user would be designated at this level, they probably shouldn't have access to the account.
Viewing folders and their contents
Only those with full access can automatically see the Shared Mailbox and its contents upon login. All other users must have permissions added by the user with full access before they can view the Shared Mailbox.
These steps must be followed by a full access user for each non-full access user to allow access and view of an Exchange shared mailbox and its contents (emails, subfolders and subfolder emails). This process must also be followed for each Shared Mailbox account and each subfolder within the shared mailbox account.
If you require non-full access users to have "send as" or "send on behalf" permissions, please submit a request to CUIT.
If at a later date a full access user wants to add a new full access user to their Exchange Shared Mailbox account, please submit a request to CUIT to have an account and mailbox created in the ADCU domain for shared mailbox access only. You must include in the request that full access should be provided for the new user.
Follow these steps to provide a new user with access less than full access (i.e. owner - contributer).
1. Log in to Exchange from Microsoft Outlook.
2. Right-click on the shared mailbox name.
3. Select Data File Properties
4. Select Permissions tab, and click the Add button.
5. Select the name of the user that you would like to grant permissions to and click Add.
6. Select Permission Level and choose the level of access that you would like to grant, from Owner to Reviewer. As a reminder, giving a user owner access in Exchange does not mean that user has full access permissions. Each user with account access can have a different permissions level, as decided by the full access user.
Only full access users can add these permissions.
1. While in your Exchange account, right-click on the shared mailbox subfolder name and click Properties (i.e., Inbox, Sent Items, Drafts, etc.).
2. Follow steps 4-6 from Adding Non-Full Access Permissions for a Shared Mailbox guide.
These steps will allow a full access user to give permissions to other users to access and view the shared mailbox. However, the above process must be followed for each subfolder in the shared mailbox. If this process is not followed for every subfolder, then the user will only have access to the shared mailbox, and not any of the subfolders or emails within.
If you are a non-full access user of a shared Exchange mailbox, you must complete the following steps one time to dock, or add, the shared mailbox to your account. Afterwards, the shared mailbox will appear each time you log in.
1. Login to Exchange from your Microsoft Outlook desktop client.
2. From the home screen, right-click on your name in the left window of Microsoft Outlook.
3. Select Data File Properties.
4. Select Advanced tab on pop-up window
6. In the field provided, type in the name of the account. For example, if the name of account is grad-papers and its email address is [email protected], type in grad-papers.
Please note: If a non-full access user follows these steps before they are granted viewing permissions, and then they are granted permissions, the user will need to restart Outlook before the account permission changes take effect.
1. On a Mac, double-click the desktop icon for Outlook Exchange. With a Windows OS, navigate to Start Menu > All Programs > Microsoft Office > Microsoft Outlook.

2. After logging in using "ADCU\username," both the individual and shared accounts will be displayed the same screen: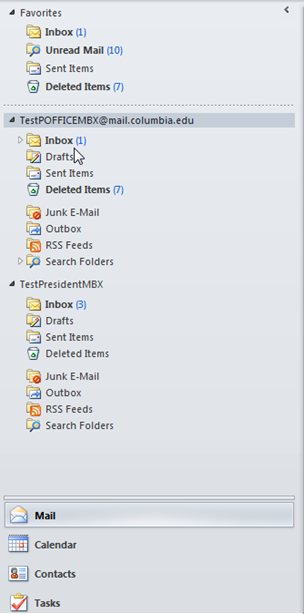 If you don't have access to Microsoft Outlook via your desktop, you can log in via the Outlook Web App (OWA). There are a few additional steps than described in the Logging into Shared Mailbox via Microsoft Outlook guide.
In brief: when accessing the shared mailbox from Microsoft Outlook on their desktop, users log in to their individual accounts, and the shared accounts appear on same page; when accessing from OWA on the web, you must first log in to their individual Exchange accounts for security purposes, so your identity is confirmed. After logging in and accessing your individual account, you can then log in to the shared mailbox.
Step-by-step instructions:
1. Open a browser from any computer and navigate to the Columbia homepage: www.columbia.edu.
2. Click the Email menu at top right of the page, and select CUIT Outlook Web Access.

3. On your Outlook Web App login page, type in your individual Exchange account domain\username. In this example, the name of the individual account is "TestPOFFICEMBX" so the login will be "adcu\TestPOFFICEMBX."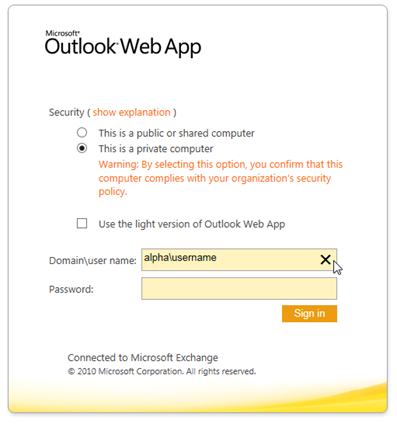 4. The Exchange interface shows the individual mailbox at left ("TestPOFFICEMBX"):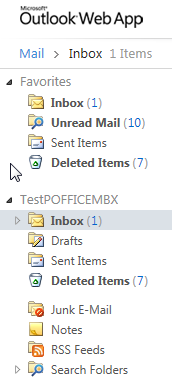 5. Open the Exchange shared account. In the upper-right hand corner, click on your name ("TestPOFFICEMBX").
6.Type in the name of the Exchange shared account (in this example, "TestPresidentMBX."):

7. You will see the same interface displayed in Step 4, but instead of your individual account name showing above the Inbox, the shared account mailbox name will appear (i.e., TestPresidentMBX ).
An email client is a program used to access and manage your email.
Microsoft Outlook is an email management program. Staff should contact their department administrator for information on how to obtain Outlook. Students will need to purchase Outlook either separately or as part of the Microsoft Office Suite.
When setting up ADCU Exchange in Outlook the server name should be:
outlookwebmail.cuit.columbia.edu
Outlook Web App (OWA) is a web-based email management program for use by University employees whose departments subscribe to CUIT's Central Exchange/ADCU domain email and calendaring services. It is not available to students unless they are employees of a subscribing department. More information on Central/Exchange services and costs are available on the Central Server page.
Requirements
Outlook Web Access requires an active Central ID, a valid Central/ADCU email account (e.g., [email protected]) and a compatible web browser.
Accessing OWA
Log in to ADCU Outlook Web at https://outlookwebmail.cuit.columbia.edu/
1. Click Next on the Welcome to Outlook 2016 window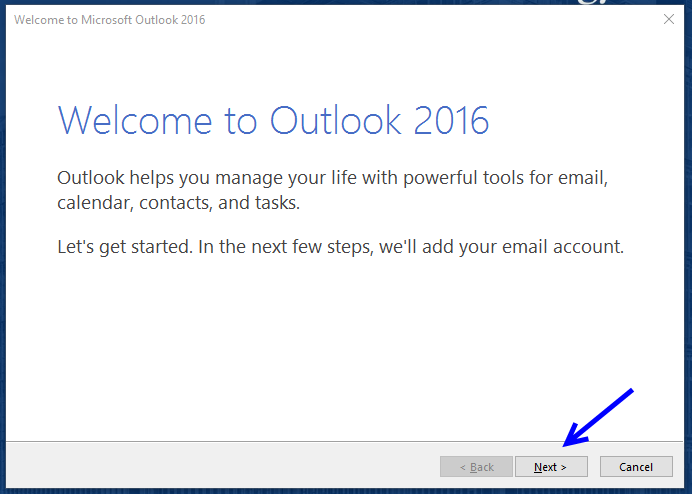 2. Choose yes and then click Next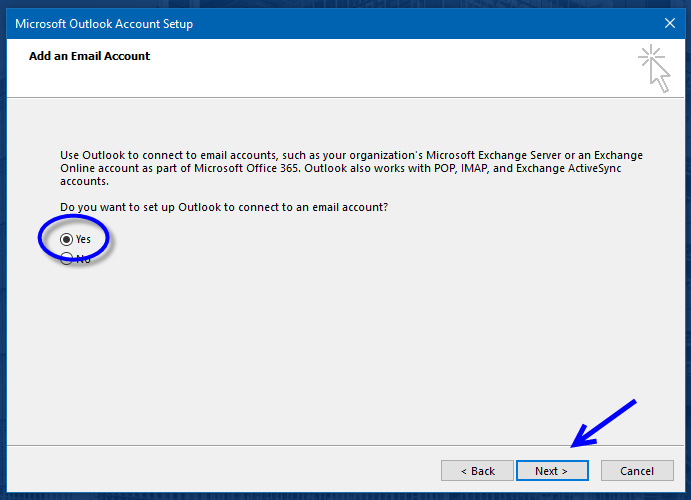 3. If successful - you will see 3 green checkmarks. Click Finish.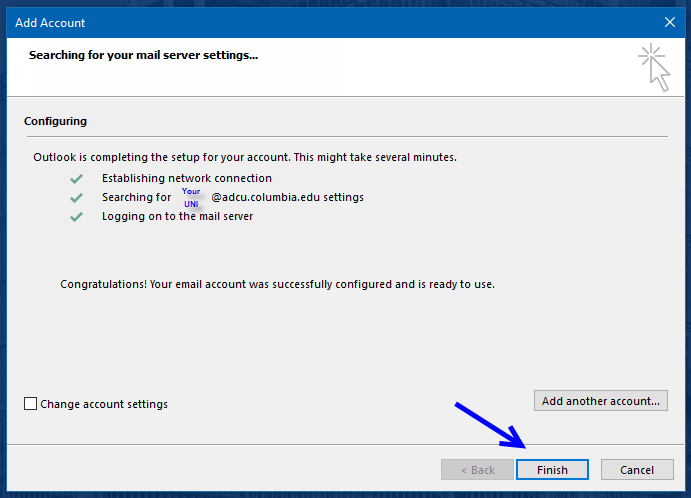 For mailboxes that are larger than 5GB, we do not recommend using Outlook for Mac. Please consider using Outlook Web Access for the best user experience.
1. Open Outlook 2016 for Mac and select Preferences from the Outlook menu option
3. Choose Exchange or Office 365
4. Type in your [email protected]adcu.columbia.edu, ADCU\UNI and your UNI Password. Check the Configure automatically option, and click Add Account.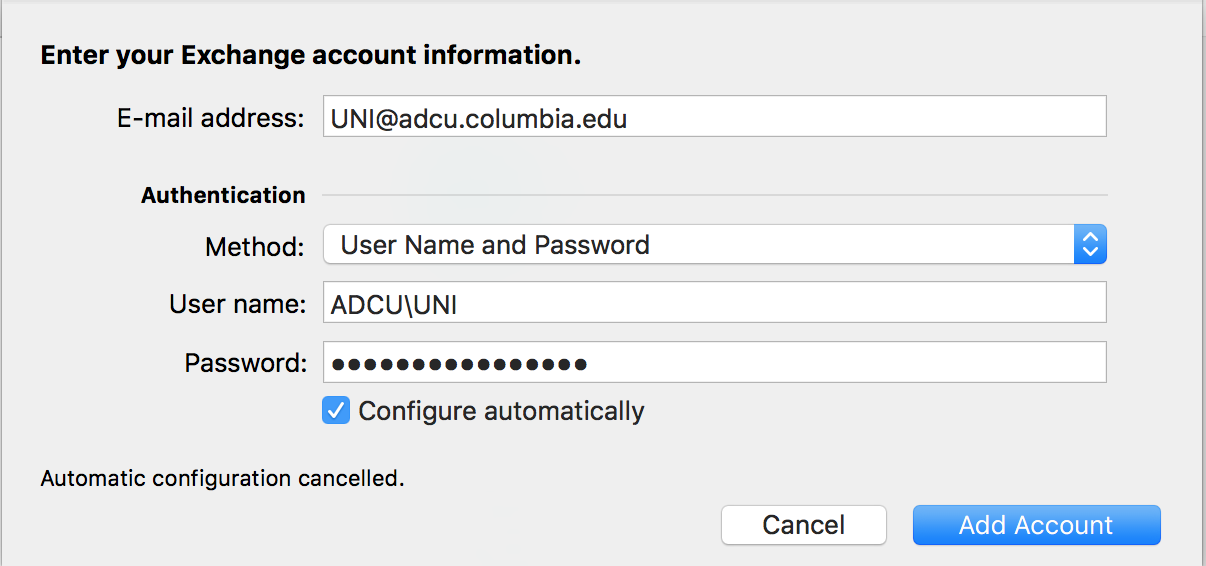 1. Select "Add Account" from the File menu.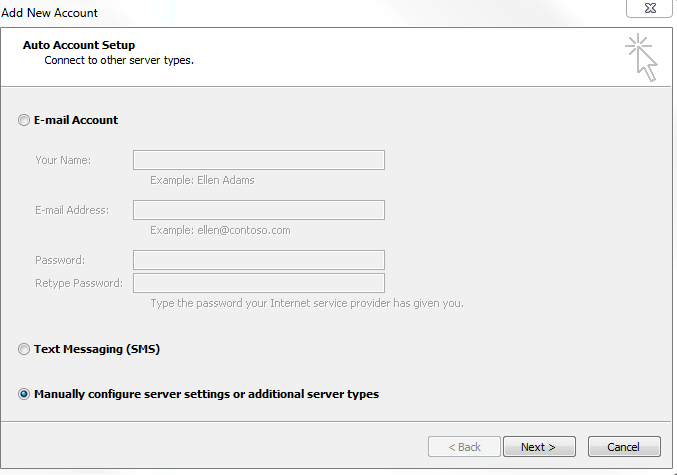 You might be prompted to execute this action though Control Panel if you have used Outlook before. Please go to Start / Control Panel and follow the instructions below.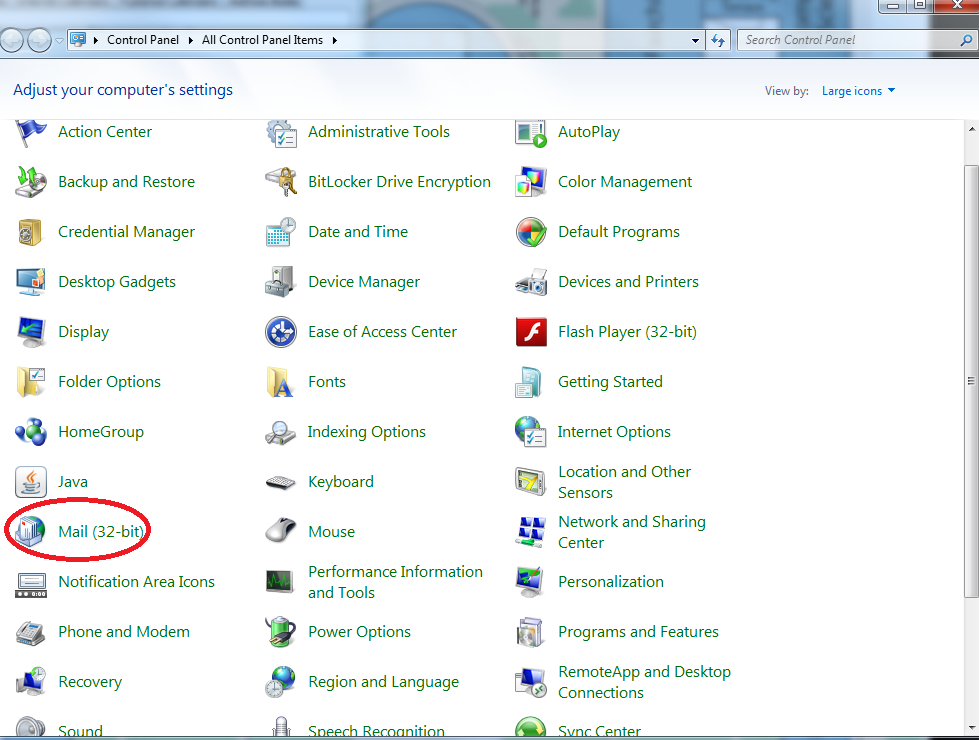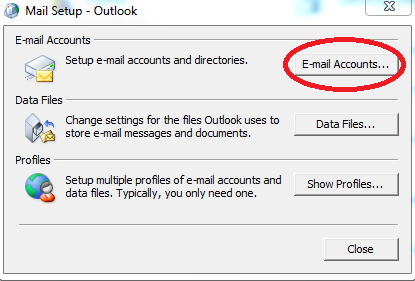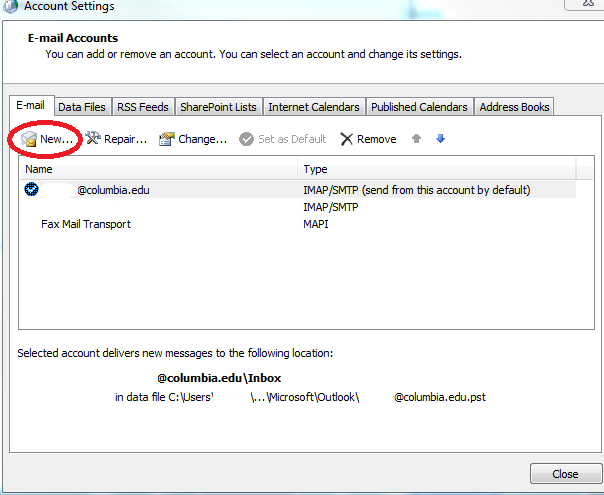 2. Choose the "Manually configure server settings or additional server types" option.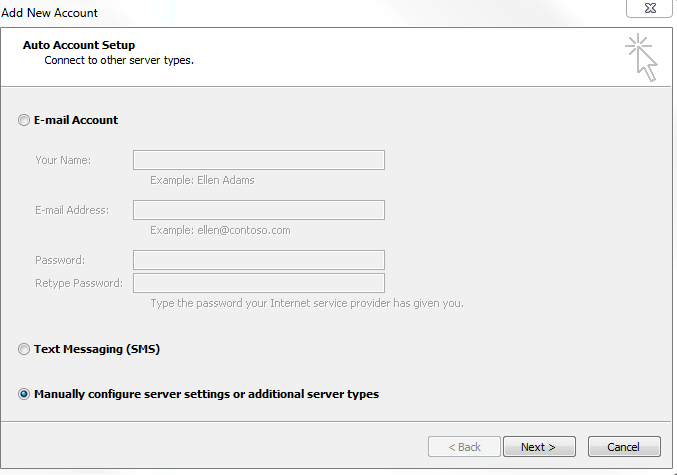 3. Select "Microsoft Exchange or compatible service"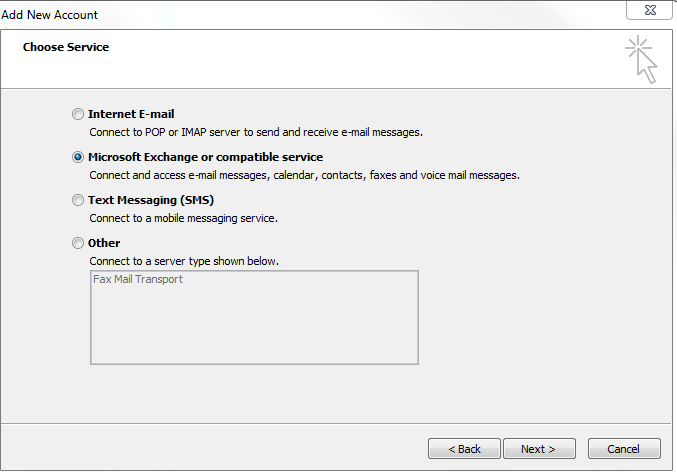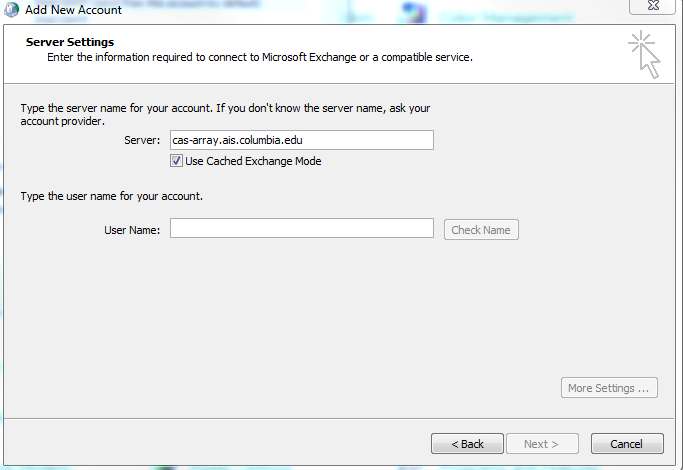 5. Click on "OK" in the Mail Delivery Location window

6. Click the "Check Name" button. The name will change to the email address, and a congratulations window will appear. Please click Finish and your Exchange account is now configured in Outlook.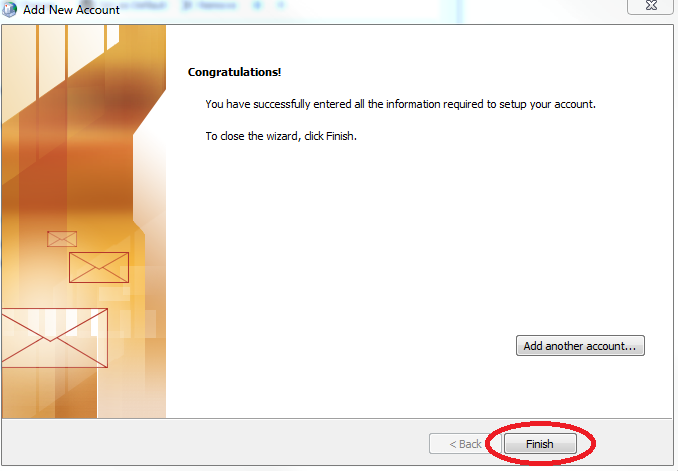 1. Open Apple Mail application, select Exchange and click Continue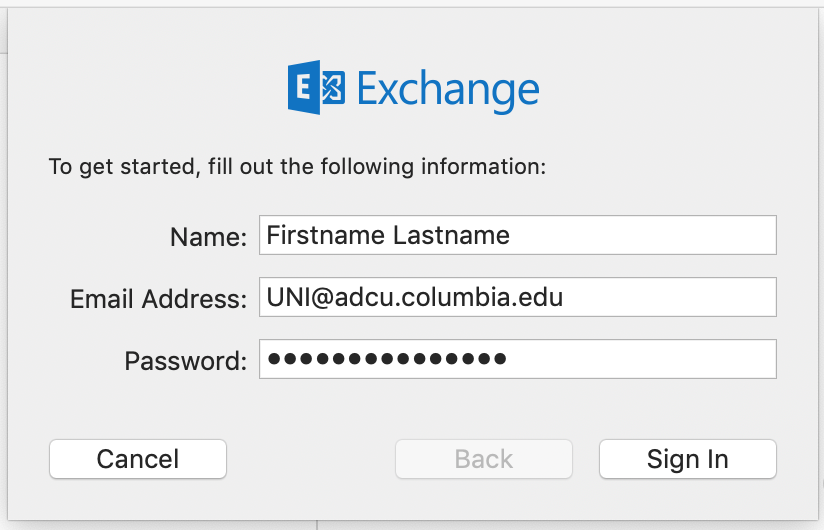 3. Select Sign In when you are asked if you would like to sign in to your Exchange account using Microsoft.

4. Choose the options that you would like to enable and select Done
Full permission means the user can Read, Edit, and Delete a file or folder.

The following three Permission Levels allow the granted person to delete any files in the folder you give them access to. Use with caution.
Owner - This grants full permission to the selected folder. This is not generally advisable.
Publishing Editor - This also grants full permission to the selected folder, but it does not change who "owns" the folder. Be careful when using this option, but it can be useful if other people need to organize your folder.
Editor - This grants full permission, except for the ability to create new folders. This option is advised for basic calendar sharing.
The following two Permission Levels allow the granted person to edit/delete only files/appointments that they created.
Publishing Author - Similar to Publishing Editor, except the granted user cannot delete files (or appointments) that you created.
Author - Similar to Editor, except the granted user cannot delete files (or appointments) that you created.
The following four Permission Levels grant minimal access to your folder.
Nonediting Author - The user can create items (not folders), but cannot edit anything. They can delete items that they have created.
Reviewer - The user can see folders, but not sub-folders.
Contributor - The user can create items.
None - The user has no permissions. The Default user is setup with the Permission Level: None.
LDAP (Lightweight Directory Access Protocol) is used to configure your email so it will automatically offer the email addresses of users in the Columbia Directory as you begin typing their name or UNI.
Follow these LDAP configuration steps to add LDAP to your Outlook Exchange account.