Enterprise Mobility Management — EMM
Access to software to deploy Workspace ONE UEM app to secure and protect University mobile devices.
Please note: The icon of the Workspace ONE Intelligent "HUB" App that will be pre-installed on CUIT-managed devices.

About EMM
Also known as Workspace ONE UEM, mobile device management, endpoint management, and MDM.
Enterprise Mobility Management (EMM) provides you with device management capabilities, including easy, out-of-the-box configuration, self-service tools, and enhanced security from data theft. 
It keeps you up to date with the best practices, including enhanced passcode protection and the ability to remotely wipe devices that have been lost or stolen, among many others. These features are organized into a collection of settings called configuration profiles.
Why Workspace ONE UEM?
In response to the global growth in cyber security threats, CUIT has launched a number of important initiatives, including Enterprise Mobility Management (EMM) with a solution called Workspace ONE UEM. Workspace ONE UEM is a market leader in the enterprise mobility management space, helping organizations secure their device and data.
Beginning in 2017, Workspace ONE UEM EMM will be deployed to all CUIT-provided mobile devices, including mobile phones and tablets. This will ensure all CUIT mobile devices are secure and in compliance with University security policies.
Manage their own device.
Reset their own device passcode.
Remotely lock their device with a custom message.
Sync their device and receive updated settings and data.
Require a passcode to unlock: If you do not already require a passcode to access your device, you will be prompted to establish one once Workspace ONE UEM is installed. This passcode will be 6 digits long, providing stronger security than the common 4-digit passcode, and will prevent unauthorized access to your device in case it is lost or stolen. For additional security, ten consecutive failed attempts at entering your passcode will result in a device wipe.

Please note that this password requirement disables the ability to use the swipe unlock feature on Android devices

Time out after a period of inactivity: To protect your data, your device will auto-lock after 3 minutes, and you will be required to enter your passcode to unlock it.
Be encrypted: Encryption will be enabled on devices so that if they are ever lost or stolen the data will remain secure.
Remote passcode reset: If for any reason you forget your passcode, a passcode reset command can be sent, at your request, to your device.
Remote device wipe: In the event your mobile device is lost or stolen, CUIT can remotely wipe your device. We will never do this without your approval.
Download Managed Apps: In addition to the Workspace ONE UEM Agent, the CUIT App Catalog offers any applications provided by your department at no cost. If you unenroll from EMM, these apps are automatically removed.
Check periodically to make sure it hasn't been jailbroken
Protecting and ensuring your privacy remains a key part of CUIT's mission, and Workspace ONE UEM will be used only to provide the functionality listed above. We have no access to your personal files or data on the device.
Get Started with Enrollment
In order to access the features Workspace ONE UEM offers, you will need to enroll your device. Once you have completed enrollment, you will be able to use the Self-Service Portal to manage your device, as well as receive any team data or managed applications assigned by your department. To begin the enrollment process, please visit the EMM Enrollment page. Please note that prior to enrollment, you will need to encrypt your device. CUIT also recommends that before beginning enrollment, you review and back up all relevant data on your device. 
Image Carousel with 4 slides
A carousel is a rotating set of images. Use the previous and next buttons to change the displayed slide
Slide 1: AirWatch screen of Your Privacy Matters

Slide 2: AirWatch screen: What we cannot see

Slide 3: AirWatch screen: What we collect

Slide 4: AirWatch screen: How we can protect you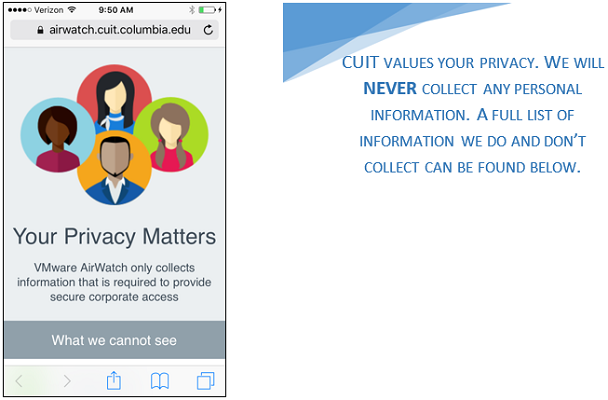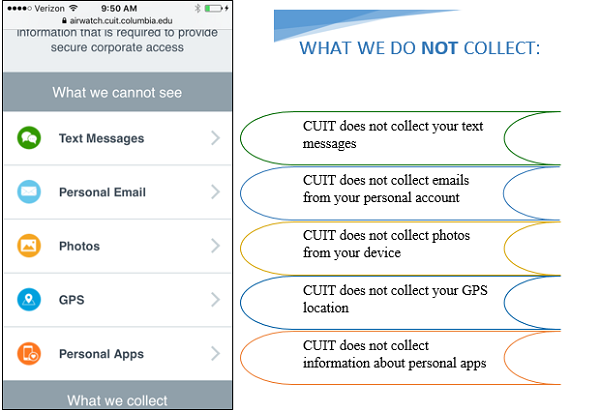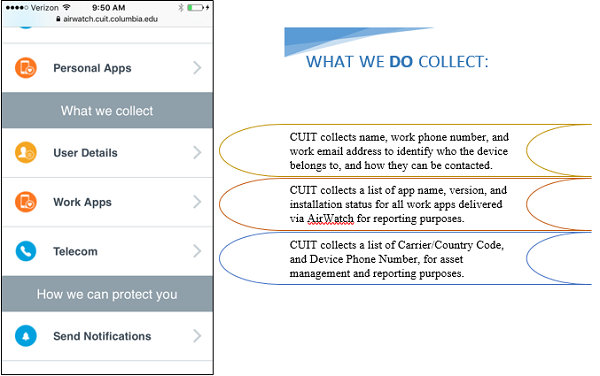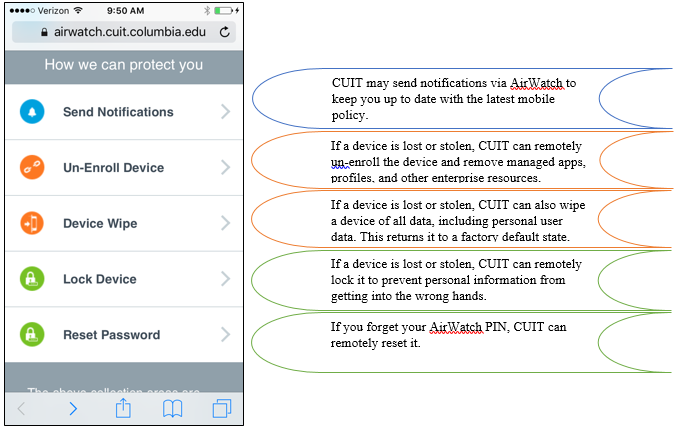 Previous
Next
Yes. Workspace ONE UEM requires you to create a 6+ character alpha-numeric code to unlock your device, according to University policy.
Workspace ONE UEM provides additional benefits beyond passcode-protection: it also allows a full or partial remote data wipe or passcode reset in the event of loss or theft. Workspace ONE UEM encrypts your data so your device is in compliance with Columbia's mandatory security policies. Columbia University's security policies provide full explanations of what is required .
Yes. CUIT recommends that you back up your device to the Cloud. Before you enroll, please be sure to take the appropriate backup steps.
In the event that you forget your Workspace ONE UEM PIN, you can reset it by opening the Workspace ONE UEM Agent app, and tapping "Forgot Passcode?". Or, you may reset your PIN through the SSP.
In the event of an upgrade or replacement of your mobile device, the CUIT technician assisting you with the replacement will guide you through enrollment during your appointment. Additionally, self-enrollment guides for iOS and Android devices are available.
Workspace ONE UEM is compatible with all of the devices that CUIT offers and manages. It also supports Windows devices.
Workspace ONE UEM will not interact with any other applications on your device or otherwise affect the performance of your device.
CUIT monitors your device for compliance of the two University-mandated policies: encryption and passcode. CUIT does not monitor any other information or data on your device. Basic user information is collected to identify who the device belongs to, such as your name, work phone number, and University email address.
For CUIT-managed devices, there is no cost to enroll in Workspace ONE UEM. However, there is a cost associated with non-CUIT managed devices. Please submit a ticket in ServiceNow if you would like more details.